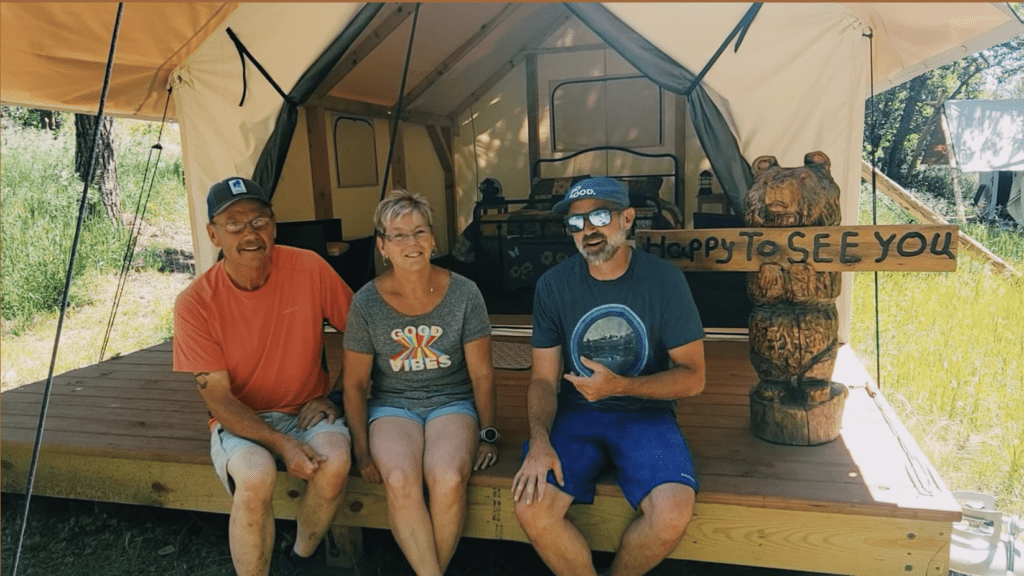 We love the stories our guests bring to share with us, and even more we love the stories of their time with us they leave behind. We would love to share some of these stories with you and hope you will book a stay with us and let us know about your time spent at Bear Den Cabins & Camp.
Breyanna Haugen
24/04/2023
If I could give 100 stars, I would! Our family spent the night in the newest cabin to celebrate our son's 2nd (earth day) birthday, and we were not disappointed! The cabin was spacious and beautiful, the shower house was so uniquely designed, and the possibilities for adventure were endless! We hiked, found exciting things to explore, and most importantly, put the phones down (aside from pictures) and spent time as a family in the beautiful Black Hills. Tammy and Tim were so accommodating, especially since it got pretty darn cold, but that didn't bother us a bit. We were treated like family from the moment we arrived, and we cannot wait to go back for a longer stay. If you stay anywhere in the Black Hills this summer, make sure it's at Bear Den Cabins and Camp!
Cecilie Bjerkenas
14/04/2023
Hospitality! Location! Beautiful! My husband and I pitched our tent and spent two nights at the Bear Den. We immediately felt welcomed and taken care of when Tammy and Tim greeted us at the entrance and made sure we had everything we needed to enjoy our chilly nights. Great line of communication. The location is fantastic as it's only a 20 min drive from I90 and 30 min to Mount Rushmore. You're nestled back in a quiet backyard community of tents and cabins while only being minuets away from the attractions. The space you stay is so clean and beautiful. We enjoyed the large clean bathrooms that offered hot showers at the end of a day filled with hikes and adventuring. There are a few picnic tables and games to be shared too. We absolutely would recommend the Bear Den to anyone looking for a place to stay in the Black Hills.
Carletta Hawley
14/10/2022
Absolutely hands down the best camping experience of my life!! I'd recommend this to anyone!!!❤️❤️🧡🧡💛💛💚💚💙💙💜💜🤎🤎🖤🖤🤍🤍❤️❤️
Morgan Dowling
05/10/2022
My puppy Harper and I absolutely loved our stay at Bear Den. So peaceful, you've thought of everything! Everything is kept so clean and tidy, from bathrooms, to the glamping texts. We will be back again very soon!
Tammy & her husband have a BEAUTIFUL set up with these canvas tents and cabins! This place is so welcoming, beautiful, and relaxing! They are the most wonderful hosts and have thought of everything! My husband and I stayed in one of the tents while we toured the Blackhills for our 2nd wedding anniversary! It was the perfect spot, because it is located about 20 mins from Rapid and just down the road from Custer State Park. This place is wonderful and is the perfect spot for anyone (families, couples, a single person, dogs, etc...) and we will 100% be back!! Thanks so much Tammy and Tim for all of your hospitality!
My friends and I had a great time there! We slept in the cabin, very nice! Very nice owners!
I had one of the most sensational stays at Bear Den Cabins & Camp of anywhere I've stayed in the past few years! I am states away and already excited for my eventual return. The hosts are the friendliest hosts I've encountered in a long, long time. They provide an all around exceptional experience for every guest! This is a hidden gem!!!
This place is great! The tents are very clean and the beds are very comfortable. We woke up to wild turkeys gobbling and a lot of mule deer around camp every morning. The bathhouse was very clean. LP grills were available and games to play. We'd stay here anytime!
Virginia Hobbs
11/08/2022
A must stay! My friend and I were road-tripping back home and needed a place to stay for the night and this place exceeded our expectations. The host is fabulous and gave us dinner and hike recommendations. There is clearly a lot of time and love spent making these cabins and tents a welcoming environment.
Heather Shauers
04/08/2022
We loved staying here! It's a beautiful location just outside Custer state park with cute cabin, abins, glamping tents and basic tent sites. Tammy, the host, is amazing! She made us feel so welcome and right at home. Would recommend it to anyone looking for a great getaway.