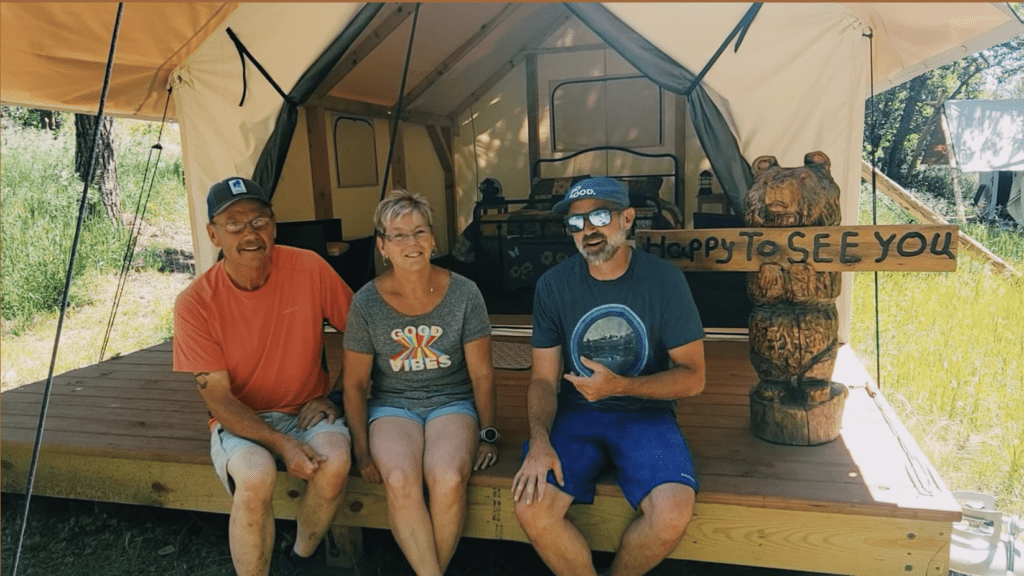 We love the stories our guests bring to share with us, and even more we love the stories of their time with us they leave behind. We would love to share some of these stories with you and hope you will book a stay with us and let us know about your time spent at Bear Den Cabins & Camp.
The coziest place in South Dakota! Driving down the dirt road you might be hesitant, but there lies a hidden oasis. The cleanest cabins and bathroom I've ever experienced, running water and electricity. Whether its enjoying the deer and birdsong in the morning, the many grills in the afternoon, or the gas fire pits and stars in the evening, its a serene experience the whole time. To top it off, there's disc golf too :)) Tim and Tammy are super hospitable, they put a lot of love into the place. Super affordable, would recommend it to anyone always.
Adorable yurt and very nice shower house. Attention was paid to every detail! Bed was comfortable. Thank you for the gift bag of snacks!
Amanda Smitley
09/08/2023
Stay here! This place was paradise and the host was spectacular.
Margaret Ferrarone
03/08/2023
We had the best, most relaxing time here. After our first night we added another day to our stay, we loved it so much. Tammy and Tim are so much fun and they want everyone to feel cared for. All the amenities are an added bonus, the Glamping tent was so nice, tucked into the trees with sounds of horses and one night coyotes! It's very close to Custer State Park so easy to slip in and out of the park for activities. We highly recommend this spot and we stayed at many on our extended travel. This was our favorite!
This was our first-time glamping, it's like being in nature with all the accommodations! The owners & their services here are the best!
Michael Hoffman
23/07/2023
Nice new camp with new, clean, facilities and wonderful owner.
Carol Baltazar
11/07/2023
Bear Den is simply perfect! The hosts are so kind and have thought of every detail for individuals, families and groups. Everything is clean and new, and there are fun activities for the kids. The setting is beautiful and relaxing, with common spaces for food prep and grilling. This was our favorite stay by far on our cross country road trip (and also the most affordable). This will be our first pick any and every time we are in the area!
Tammy the host is the most nicest person you will ever meet! She greeted every guest and showed them to their tent or cabin and walked them around and showed them the amenities she had to offer, hot showers, running toilets, ice machine, washer and dryer. Left a snack bag in our tents at 10 is quite time and it was really quiet for being full. A great place to stay, wish we had more time there.
Sunshine Wilson
01/07/2023
Tammy is a 5++ host. Location is great. All the campsite amenities you want plus some. Super clean bathrooms, hot showers, ice machine, laundry and fire bowls, covered pavilion, gas grills, beautiful tents, cabins and campsites. We loved our 6-nite stay, basecamp for all things Black Hills area!
This place was awesome. The owner made sure we were settled and had everything we needed to camp. The cabins had everything you would want or need to stay! The facility was very clean and well kept. There were all sorts of fun activities to do. 10/10 would recommend!!